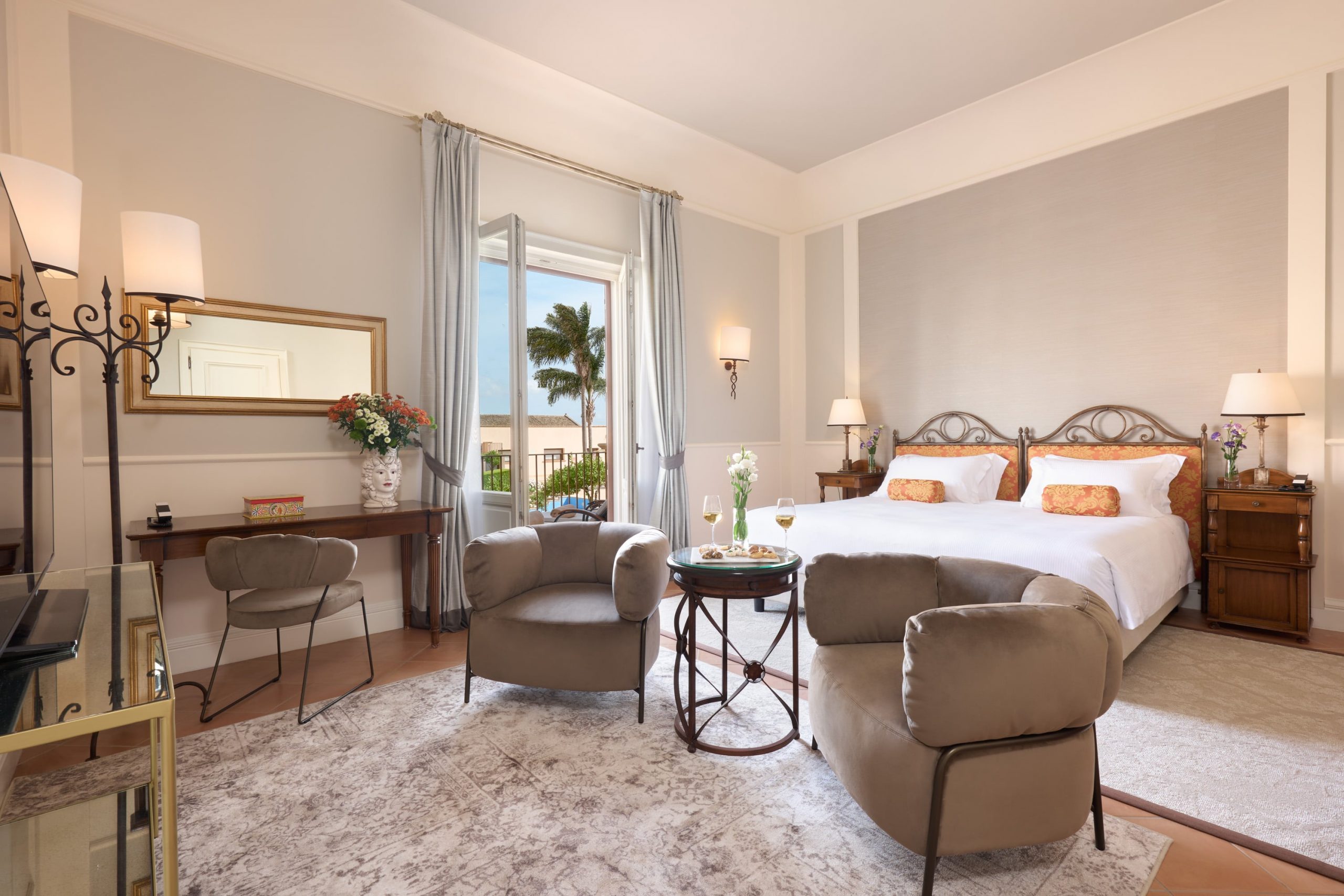 Designed for your well-being
Suites & Junior Suites
Refined
toches of elegance

The new Luxury Country Resort is reminiscent of an ancient Sicilian stately home surrounded by lush greenery, comprising centuries-old olive trees, tall, big palm trees and impressive fountains covered with tiles finely decorated with Sicilian patterns.
All our Suites and Junior Suites have exclusive balconies or spacious private terraces that bring unrivaled brightness to the room.
The furnishings, renovated before the opening, are refined and elegant, meticulously appointed, in delicate shades of pearl white and cashmere gray.
The high semi-vaulted ceilings with touches of Baroque plaster in the decorations emphasize the Island's elegant and authentic style.
---
---
Our
Junior Suites
Spaciousness, high ceilings, brightness and heritage are the key features of the Junior Suites.
Some of these are fitted with a romantic balcony offering panoramic views of the large outdoor swimming pool and the adjacent sumptuous three-level fountain located in the Resort's inner courtyard, or of the majestic flowerbeds with white and purple Agapantus or of the imposing expanses of Olive groves.
Others, on the other hand, offer views of the unique Ravanea palms of Madagascar and the prestigious Dracea draco plants, conveying a feeling of well-being and relaxation.
The Superior Junior Suite offers a more sophisticated alternative, thanks to its unusual terrace that affords perfect views of the orchards, the rose gardens and the water features of the fountain below. A sight that can be enjoyed from comfortable oversized loungers while sipping a refreshing summer drink.
The essence of the contemporary and elegant style of the Junior Suites is defined by delicate shades of pearl white and cashmere gray on the walls, the comfortable king size beds embellished with wrought iron headboards and damask fabrics, with hand-decorated wooden headboards or with majolica rosettes.