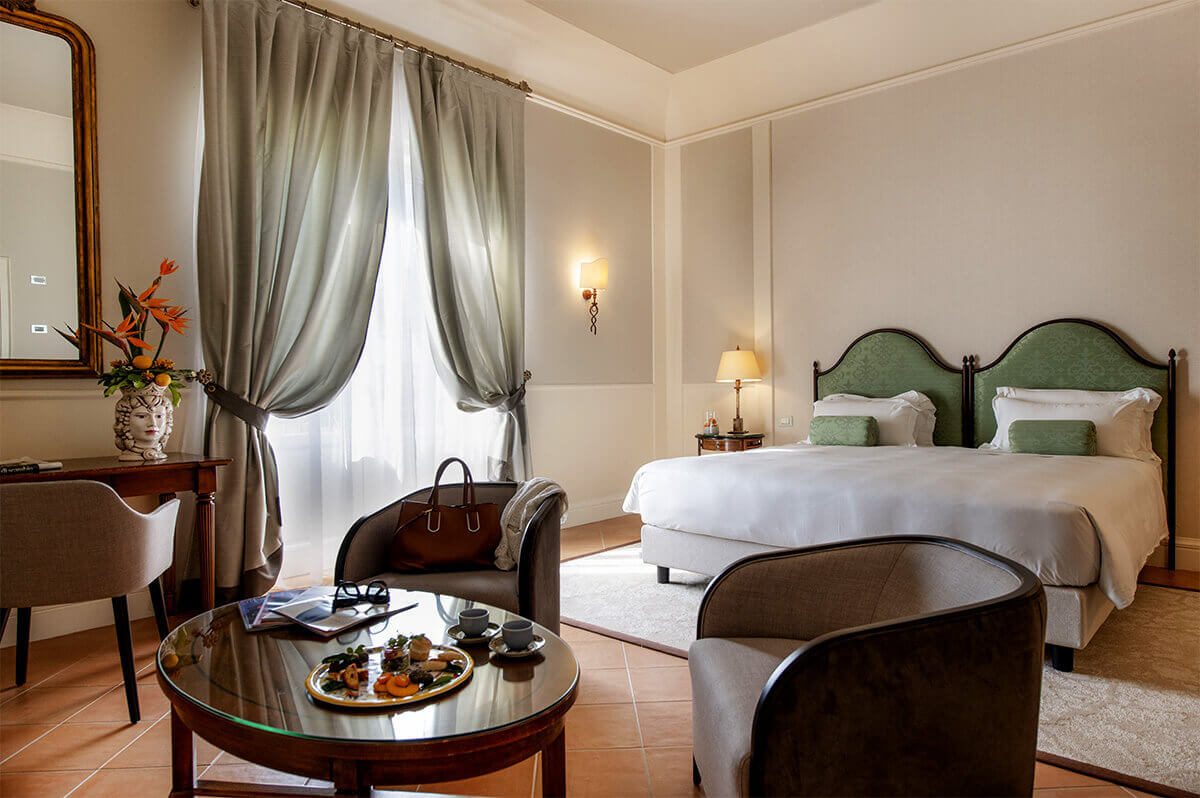 Junior Suite
Our Junior Suites
Calm

&


Bright

Spaciousness, high ceilings, brightness and heritage are the key features of the Junior Suite, all made more elegant by the sophisticated decor.

Inside, the king size bed embellished with wrought iron headboards and damask fabrics in shades of gold or sage green and a living area with plush armchairs upholstered in fine fabric and many supporting surfaces will ensure pleasant moments of relaxation.

The bathroom features white or red marble finishes with gold-framed mirrors, double vanity, a bathtub and a very spacious mosaic tile walk-in shower where you can luxuriate in intense feelings of well-being, also thanks to the products of the exclusive Almablu amenity line.
"The nicest thing for me is sleep, then at least I can dream." (Marilyn Monroe)
"Do not dwell in the past, do not dream of the future, concentrate the mind on the present moment." (Buddha)
"Everything has beauty, but not everyone sees it." (Confucio)
"Life is a surprise" (William S. Burroughs)
---
---
The room is decorated in a delicate color palette to emphasize Sicilian sophistication and authenticity, and incorporates hues of pearl white and cashmere gray, shades that convey a feeling of tranquility and well-being.
The room is well lit, thanks to the large glass window and the small balcony that affords stunning views of the main avenue, lined with luxuriant date palms, the very sight of which elicits the wind blowing through the long leaves. A breathtaking panorama that conveys pleasant sensations of relaxation thanks also to the rare tropical plants, such as the unique Ravanea palms from Madagascar or the renowned Dracena draco plants, also known as dragon trees, which here grows to an impressive size.
Fact
Sheets
VIEW
Avenue view with tropical palm trees
JUNIOR SUITE DIMENSION
48 m2