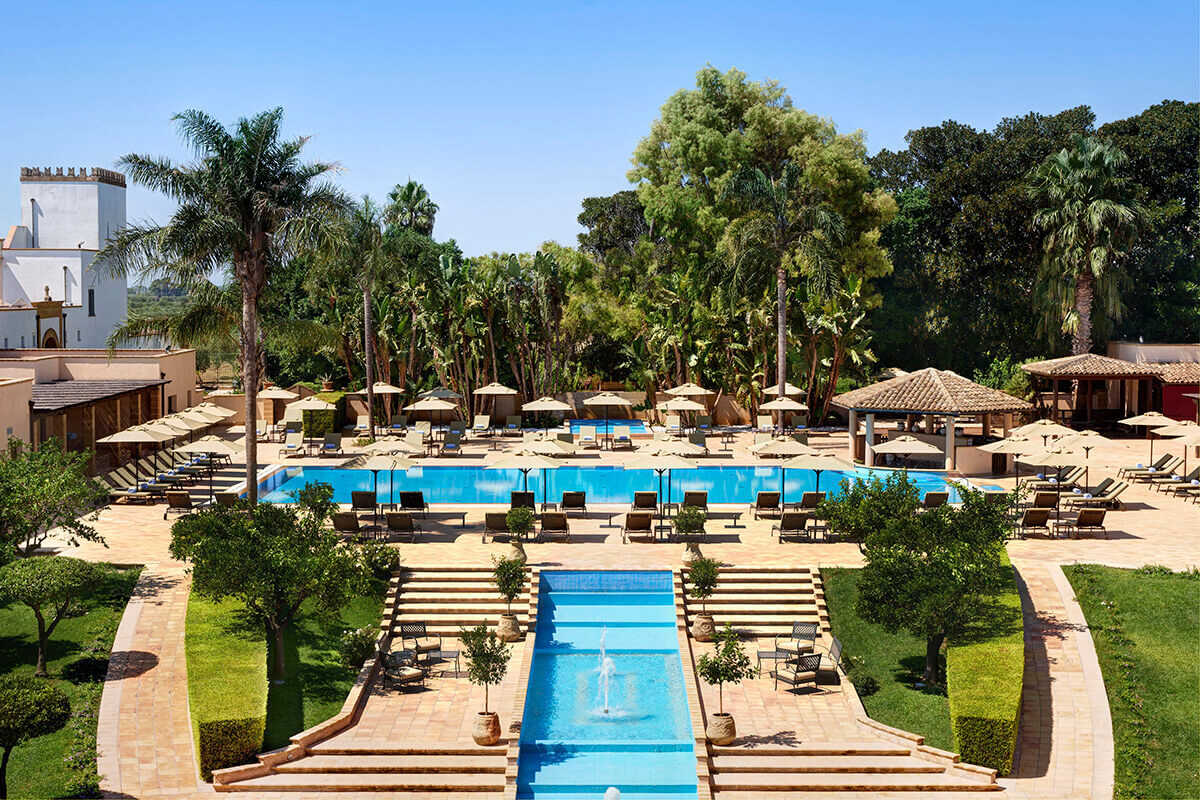 Almar Giardino di Costanza Resort & Spa
Welcome to
5 STAR RESORT
Where modernity
and
tradition

meet

Let the sophisticated lines and shapes of our 88 suites mesmerize you. A Boutique Resort, tailor-made services.

Tucked into a luxuriant natural setting of olive groves, vineyards and tropical plants; located in close proximity to the beautiful coastline of western Sicily.

Sensations, scents and colors will plunge you in an atmosphere of old world charm that will transport you to a new dimension of relaxation where you can fully relish the tranquility of this place.
Refined

touches of elegance
A world of pampering, relaxation and total well-being, where even the "dolce far niente" becomes a new experience made of pleasant dreams and happy awakenings.
Admire the beautiful view of the pool on the Resort's inner courtyard and the luxuriant vegetation, comprising lush palm trees, fruit orchards and rose bushes.
Let the outdoor scenery flow in through the large windows and seduce you in a space decorated with sophisticated touches of elegance.
Tailor made
Services

Nestled in the heart of a luxuriant Mediterranean park, Almar Giardino di Costanza Resort & Spa combines the refinement of Italian design with the most exclusive amenities for a lavish stay.
Everything is designed for a relaxing and comfortable stay, for a personalized and tailor-made vacation. Moments, experiences, meaningful memories to rediscover your inner balance in a secluded Sicilian mansion.
"Think, believe, dream, and dare." (Walt Disney)
"Elegance is the only beauty that never fades." (Audrey Hepburn)
"Details make perfection, and perfection is not a detail." (Leonardo da Vinci)
"Everything you can imagine is real." (Pablo Picasso)
"One touch of nature makes the whole world kin." (William Shakespeare)
"There is no love sincerer than the love of food." (George Bernard Shaw)
"I believe that style is the only real luxury, that is really desirable." (Giorgio Armani)
"A man who drinks only water has a secret to hide." (Charles Baudelaire)
---
---
A land waiting to be Explored
Whatever you love to do, you will find an incredible variety of experiences with Almar Giardino di Costanza Resort & Spa.
Tropical and heavenly beaches with shades of colors ranging from white to golden await you with spectacular and romantic sunsets that will make your stay even more exciting.
The authenticity of Mazara's historic center built in the Sicilian Baroque style and characterized by adornments and statues made of  "Tuff" stone with strong Arabic influences will send you back in time with its ancient Sicilian "Bagli", historic thousand-year-old churches and alleys reminiscent of Middle Eastern Kasbahs.
City Center
10 min
Mazara del Vallo
10 min