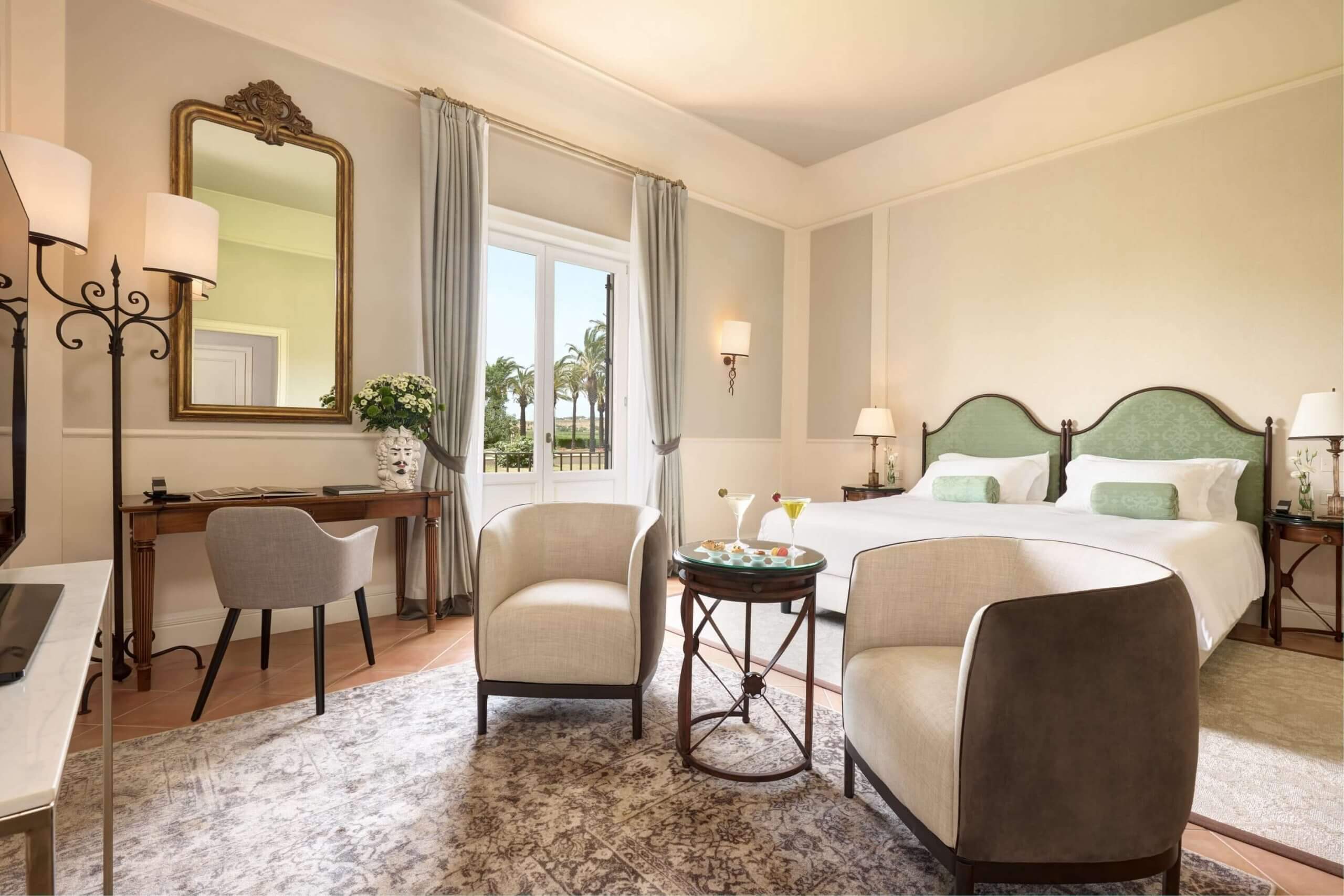 Junior Suite Garden View
Our Junior Suites
Classicism and modernity
typical of Sicily
With its high, semi-vaulted ceilings, intense brightness and unique way of combining traditional Sicilian classic and contemporary styles…
The Garden View Junior Suite boasts king size mattresses complemented by wrought iron headboards and damask fabrics in shades of gold, sage green or orange and seating areas with comfortable armchairs upholstered in fine fabric where you can enjoy moments of total relaxation.
The predominant colors are pearl white and cashmere gray with a few touches of Baroque plaster in the decorations. Inside the Junior Suite, the bathroom stands out for its top-quality Sicilian decorations, totally clad in white or red marble, a spacious walk-in shower in colorful mosaic and a large bathtub. All enhanced by the fragrant Almablu amenity line.
"Think of all the beauty still left around you and be happy." (Anna Frank)
"Learn to relax. Your body is precious, as it houses your mind and spirit. Inner peace begins with a relaxed body." (Norman Vincent Peale)
"Love the life you live. Live the life you love." (Bob Marley)
"The man who is blind to the beauties of nature has missed half the pleasure of life." (Robert Baden-Powell)
"A day without laughter is a day wasted." (Charlie Chaplin)
---
---
These spacious Junior Suites are fitted with a romantic balcony reminiscent of the legendary scene of Romeo and Juliet, from which you can admire on one side the majestic flower beds covered with white Agapantus and violets and, on the other, the vast expanses of olive groves.
This view is elevated by imposing three-level fountains covered with tiles finely decorated with Sicilian patterns, surrounded by gardens where you can experience laid-back and carefree moments, surrounded by the scent of tropical plants such as palm trees and rose bushes.
Fact
Sheets
JUNIOR SUITE DIMENSION
48 m2