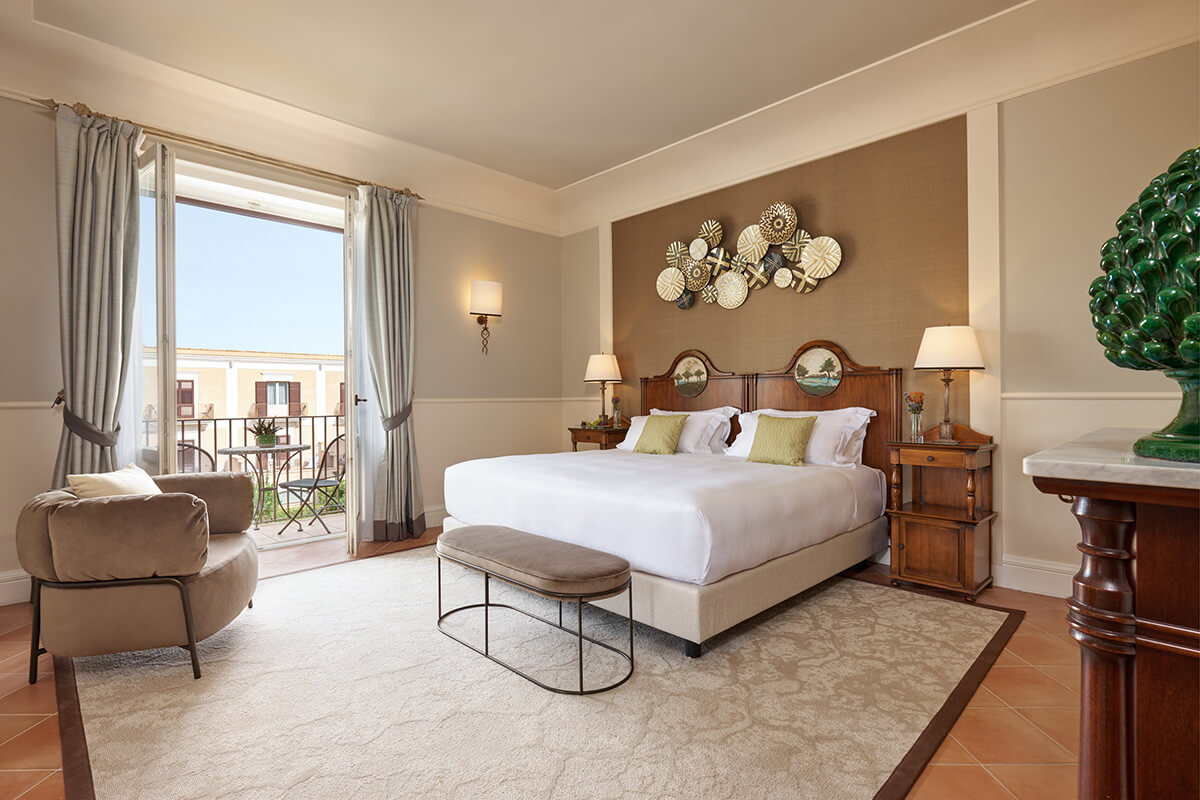 Suite Pool View
Our Suites
A
bright

and comfortable
atmosphere

Delicate hues, panoramic French windows and refined details create a bright and comfortable atmosphere in our Pool View Suites.

Featuring an enveloping King Size bed and a soft set of cotton and satin sheets, traditional furnishings in walnut wood and modern design elements, luxury items and handcrafted pieces, these suites perfectly blend the features of a traditional Sicilian villa with contemporary trends.

The sleeping area is an open and bright environment, embellished with traditional headboards and soft rugs; from here you can admire the elegant deep blue swimming pool, the central fountain and the large rose, lemon and palm trees garden that surrounds it.
"You only live once, but if you do it right, once is enough." (Mae West)
"The most important thing is to enjoy your life. To be happy it's all that matters. " (Audrey Hepburn)
"Happiness is not a goal… it's a by-product of a life well lived." (Eleanor Roosevelt)
"Life is ours to be spent, not to be saved." (D. H. Lawrence)
"Let life surprise you." (Unknown)
---
---
The large pocket door leads to the spacious and sunny Living area, which stands out for the contemporary furnishings with a touch of Sicily and soft and warm colors such as cashmere gray and pearl white. Soft velvet armchairs, an enveloping sofa, floor lamps and elegant tabletops add character to the room and rounds out the space. The romantic balcony overlooking the Resort's main courtyard is the perfect place to start your day or to sip an aperitif at sunset.
One of the key features of our Pool View Suites is the elegant master bathroom. Equipped with all the comforts, it stands out for the elegant finishes and for the large countertop made from white Carrara marble, the gold leaf mirrors, the large sinks, a large relaxing bathtub and the spacious walk-in shower completely covered in pearl-white mosaic, as well as a smaller intimate and private toilet. Soft and fluffy bath towels, fine linen and our famous Almablu line enhance the experience.
Fact
Sheets
VIEW
Avenue view with tropical palm trees
SUITE POOL VIEW SUITE DIMENSION
67 m2