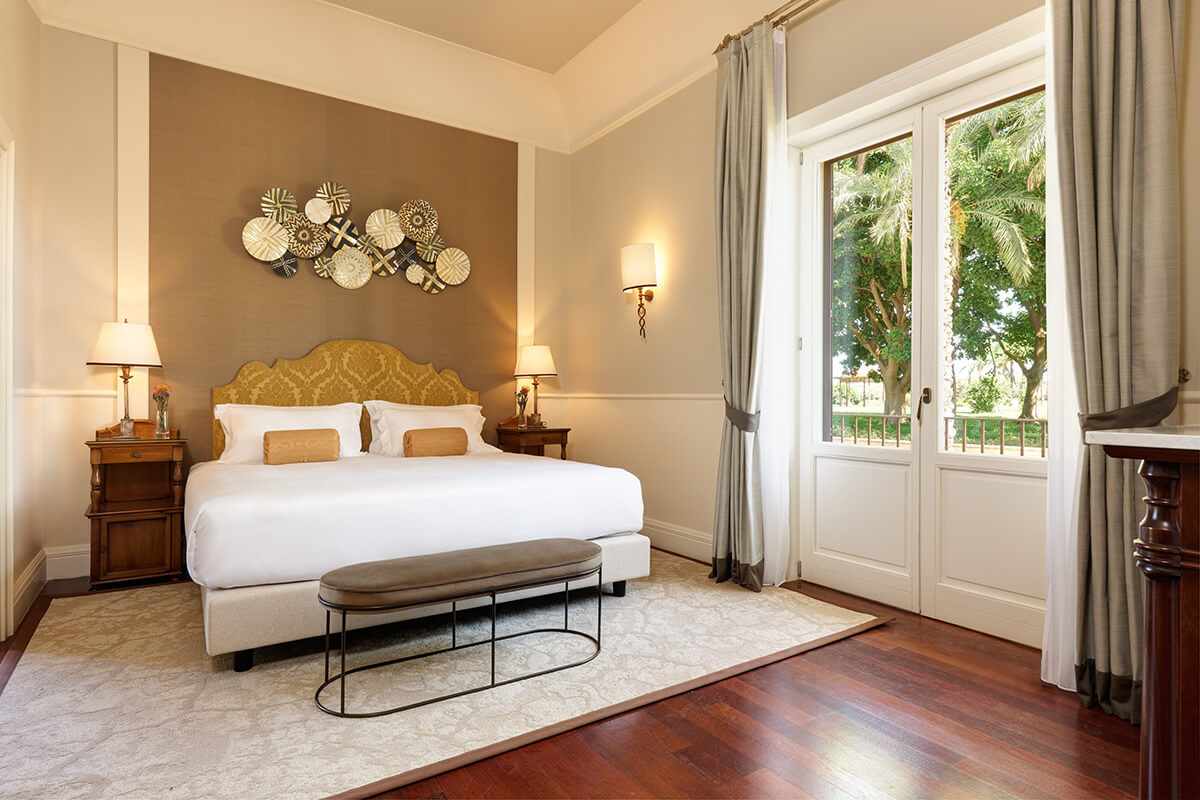 Suite Garden View
Our Suites
Designed for those
looking for a stylish
The Garden View Suite is designed for those looking for a stylish, quality stay and the comfort of spaciousness in which to enjoy peaceful moments at any time of the day.
The Suite offers an exclusive setting characterized by elegant finishes, Sicilian decorations and precious materials. It is equipped with a tall and plush King Size bed that stands out both for the headboard decorated in baroque style and for the soft cotton and satin sheet set.
For your moments of relaxation during the day, the Suite features a modern living area furnished with a velvety sofa in bright colors, enveloping armchairs and a convenient marble coffee table where you can sip a traditional local aperitif accompanied by small arancini and shrimp bites. Soft colors and refined details such as silky rugs and traditional Sicilian furnishings make everything even more elegant.
"Life itself is the most wonderful fairy tale." (Hans Christen Andersen)
"Find ecstasy in life; the mere sense of living is joy enough." (Emily Dickinson)
"There is no way to happiness, happiness is the way." (Thich Nhat Hanh)
"I had a moment of great peace. Maybe this is happiness." (Virginia Woolf)
"The purpose of our lives is to be happy." (Dalai Lama)
"Surprise is the greatest gift which life can grant us." (Boris Pasternak)
---
---
The suite's large master bathroom, completely covered with Spanish Marquina marble and embellished with refined elements, features a spacious walk-in shower with emerald green mosaic and black marble tops. All complemented with the exclusive Almablu amenity line and the double set of Italian linen and 550 GSM Egyptian cotton towels.
Outside, the small and romantic balcony allows you to immerse yourself in the lavish park with its expanses of white and purple Agapanthus, lemon trees and the famous date palms that surround two impressive fountains decorated with traditional local motifs.
Fact
Sheets
SUITE GARDEN VIEW DIMENSION
63 m2