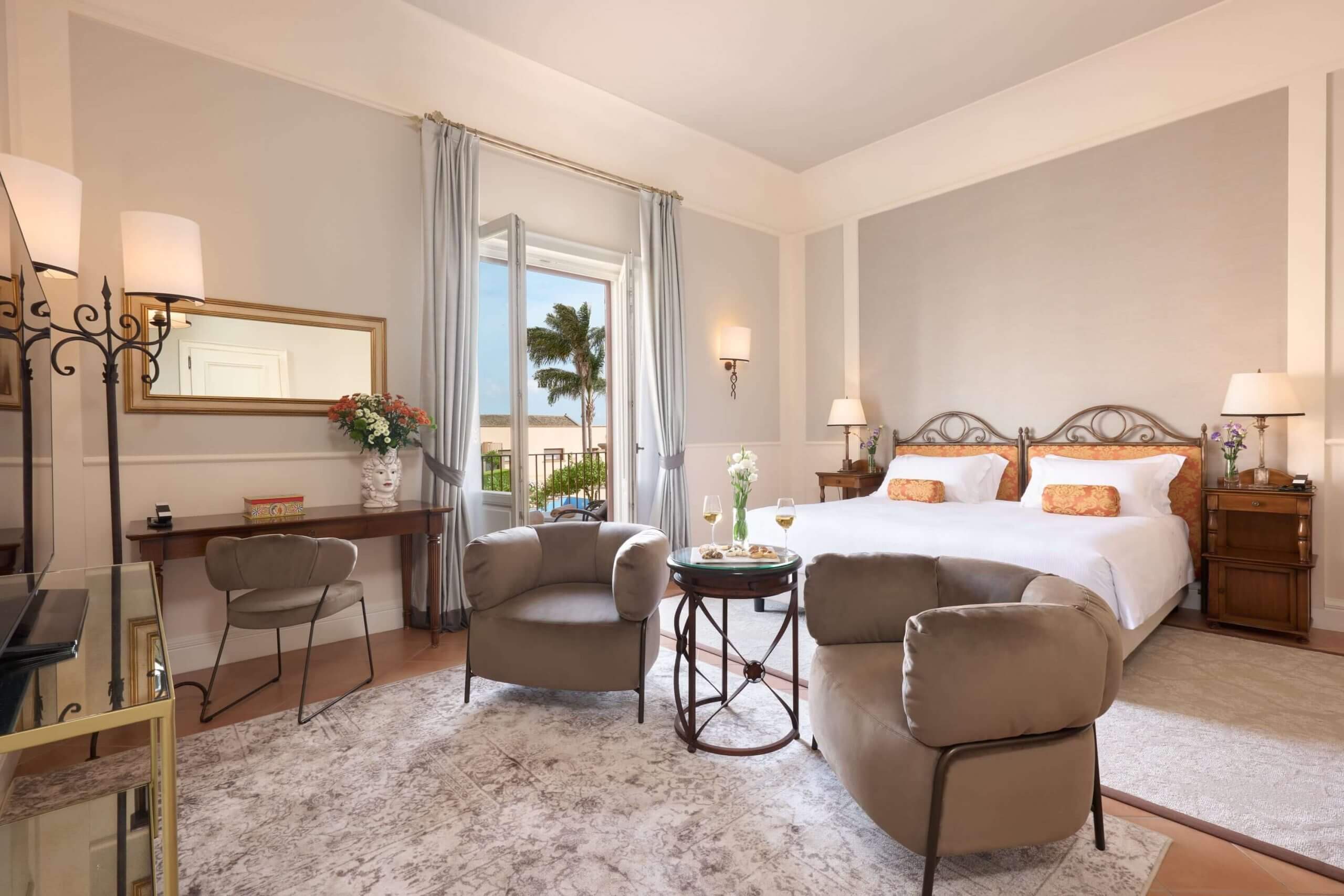 Superior Junior Suite Pool View
Our Junior Suites
Clean lines

&


Tradition

Featuring clean and traditional lines, it overlooks the Resort's inner courtyard; from here the gaze sweeps towards the scenic turquoise waterfall that leads to the large swimming pool and spacious sun terrace, equipped with comfortable oversized sun loungers and elegant umbrellas.

The fruit orchards, the rose gardens and the fountain's water features provide the perfect backdrop to the exclusive 17 square meter terrace, which you can admire while sipping a delicious aperitif surrounded by the light of a romantic sunset in your own privacy area.

The Superior Junior Suite Pool View, painted with delicate shades of pearl white and cashmere gray, boasts precious finishes, a comfortable king size bed embellished with wrought iron headboards and damask fabrics in different shades of gold, sage green and orange, hand-decorated wooden headboards or majolica rosettes.

A sitting area with velvet armchairs and many supporting surfaces complete the space. High ceilings, Sicilian decorations and large windows embody the essence of the contemporary and elegant style of Almar Giardino di Costanza Resort & Spa.
"Life is ours to be spent, not to be saved." (D. H. Lawrence)
"Stop every now and then. Stop and get caught up in the feeling of wonder towards the world." (Tiziano Terzani)
"The secret of life is to dare." (William Ward)
"Find ecstasy in life; the mere sense of living is joy enough." (Emily Dickinson)
"Perfection is no small thing, but it is made up of small things." (Michelangelo Buonarroti)
"Wherever there is a human being, there is an opportunity for a kindness." (Seneca)
---
---
The stylish details continue in the bathroom, clad in white, red or black marble, and enhanced by high-end products. The bathroom features two large washbasins, sumptuous mosaic tiles walk in shower with rainfall showerhead, a large bathtub, two exquisite guilt-framed mirrors and various designer furnishings perfected by to the pleasant and silky Almablu amenity line.
Fact
Sheets
VIEW
Panoramic view of the internal courtyard swimming pool
JUNIOR SUITE DIMENSION
62 m2, including 17 m2 terrace