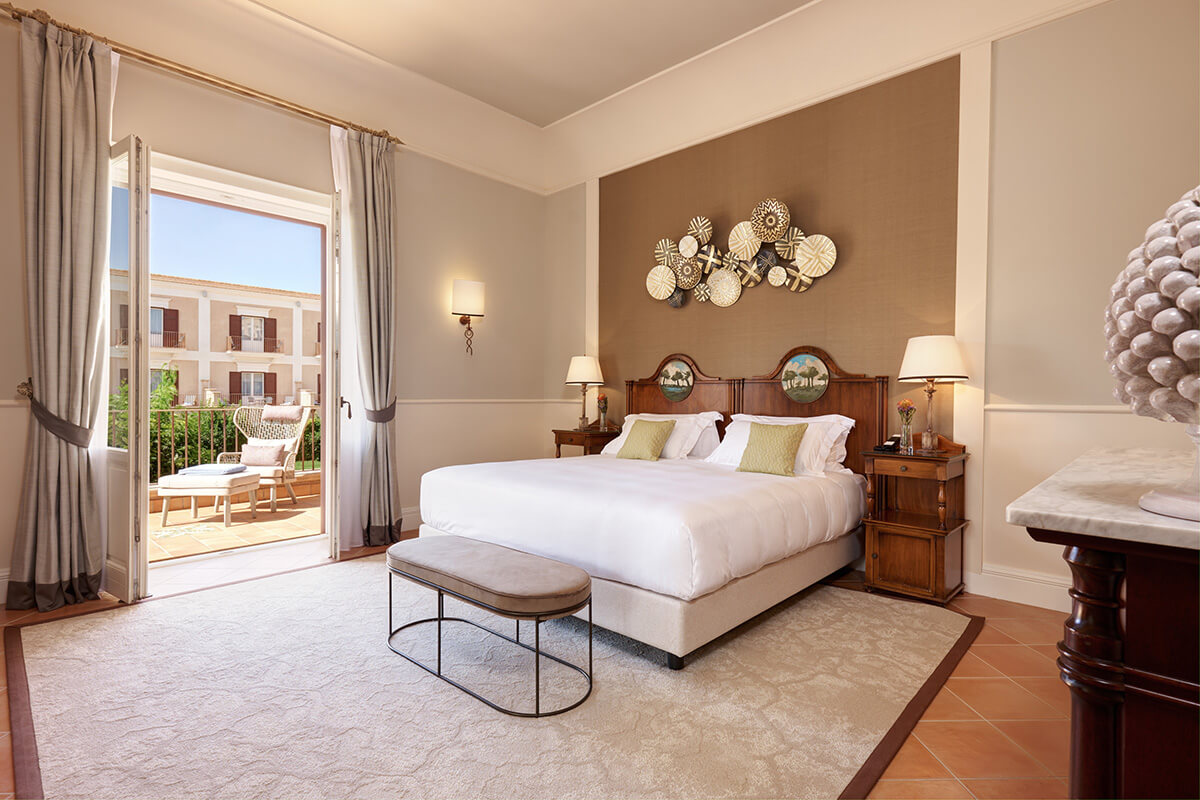 Suite dei Limoni
Our Suites
W
ell-being and comfort
The Suite dei Limoni, designed to offer maximum well-being and comfort, opens onto a large and quiet terrace measuring approximately 50sqm where you can relax on the elegant furnishings interspersed with fragrant lemon trees that decorate the outdoor space.
Sofas, armchairs, ottomans, tables and chairs make this space the perfect location at any time of the day. A hearty breakfast overlooking the pool, reading a book while enjoying the palm trees at sunset or listening to the birds while lying on one of the sofas are just some of the unique moments that this Suite can offer.
Soft hues, panoramic French windows and sophisticated details brighten up our Suite  creating a comfortable atmosphere. With its enveloping King Size bed and a soft set of cotton and satin sheets, traditional furnishings in walnut wood and modern design elements, luxury items and handcrafted pieces, these suites perfectly blend the features of a traditional Sicilian villa with contemporary trends.
"The happiest moments of a man's life are those he spends lying in bed in the morning." (Samuel Johnson)
"If you want to be happy, be." (Lev Tolstoj)
"Love of beauty is taste. The creation of beauty is art." (Ralph Waldo Emerson)
"Learn to relax. Your body is precious, as it houses your mind and spirit. Inner peace begins with a relaxed body." (Norman Vincent Peale)
"Enjoy every moment." (Unknown)
"Take care of your body. It's the only place you have to live." (Jim Rohn)
"Wherever there is a human being, there is an opportunity for a kindness." (Seneca)
---
---
The sleeping area is an open and bright environment, enriched by traditional headboards and soft rugs, which looks out onto the stylish deep blue swimming pool, the central fountain and the lush park of rose, lemon and palm trees in which it's immersed. The large pocket door leads onto the spacious and sunny Living area, which stands out for the contemporary furnishings with a touch of Sicily and the soft and warm hues such as cashmere gray and pearl white. Soft velvet armchairs, a plushy sofa, floor lamps and elegant tabletops add character to the room and rounds out the space.
Equipped with all the comforts, the master bathroom stands out for the unique finishes and the large countertop made from white Carrara marble, the gold leaf mirrors, the large colonial-style sinks, a large relaxing tub and the spacious walk-in shower completely covered in pearly-white mosaic, as well as a smaller intimate and private toilet. Soft and fluffy towels, fine linen and our famous Almablu line enhance the experience.
Fact
Sheets
VIEW
Avenue view with tropical palm trees
SUITE DEI LIMONI DIMENSION
145 m2