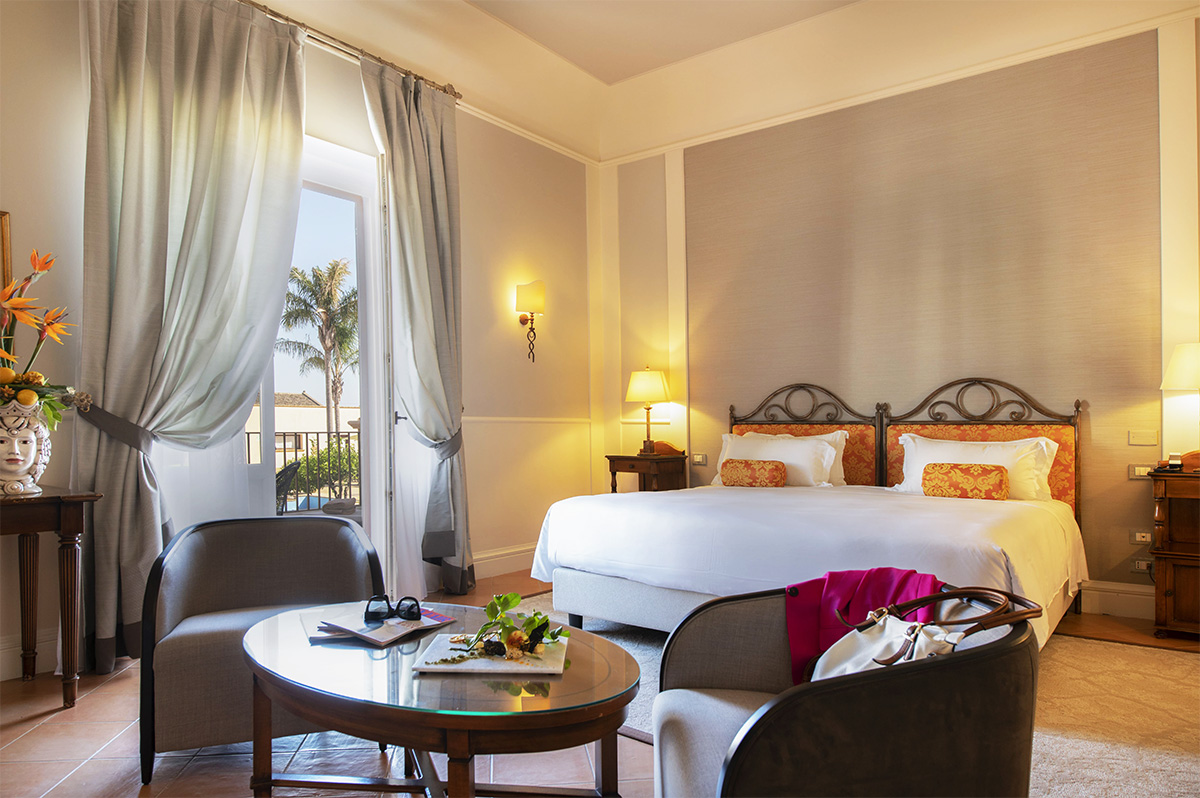 Feelings of

Wellness

and

Relax

With its refined and elegant furnishings, so quintessentially Sicilian, the Junior Suite Pool View offers you a space in which to completely indulge in feelings of well-being and relaxation.

The sleeping area has a comfortable king size bed embellished with wrought iron headboards and damask fabrics in different shades of gold, sage green and orange, or hand-decorated wooden headboards or hand-painted majolica rosettes.

The two elegant velvet armchairs in the living room will lure you into total relaxation; everything is made more comfortable by sophisticated details such as the soft area rugs and the convenient coffee table.

The design is a combination of classic and modern styles; the use of delicate colors such as pearl white and cashmere gray gives the ambience a touch of elegance, further emphasized by Baroque decorations.

The exclusive balcony provides consistent brightness and offers panoramic views of the large outdoor swimming pool and the adjoining fountain, located in the resort's inner courtyard and surrounded by palm trees, lemon trees and rose bushes; from here, one seems to relive the romantic scene of Juliet looking at her Romeo.
---
---
The bright bathroom of the Junior Suite, in white or red marble, is decorated with sophisticated furnishings such as gold-coated mirrors, double vanity, a large mosaic tile walk in shower and a spacious bathtub where you can enjoy moments of privacy safely and discreetly.
Fact
Sheets
VIEW
Panoramic view of the internal courtyard swimming pool
JUNIOR SUITE DIMENSION
48 m2